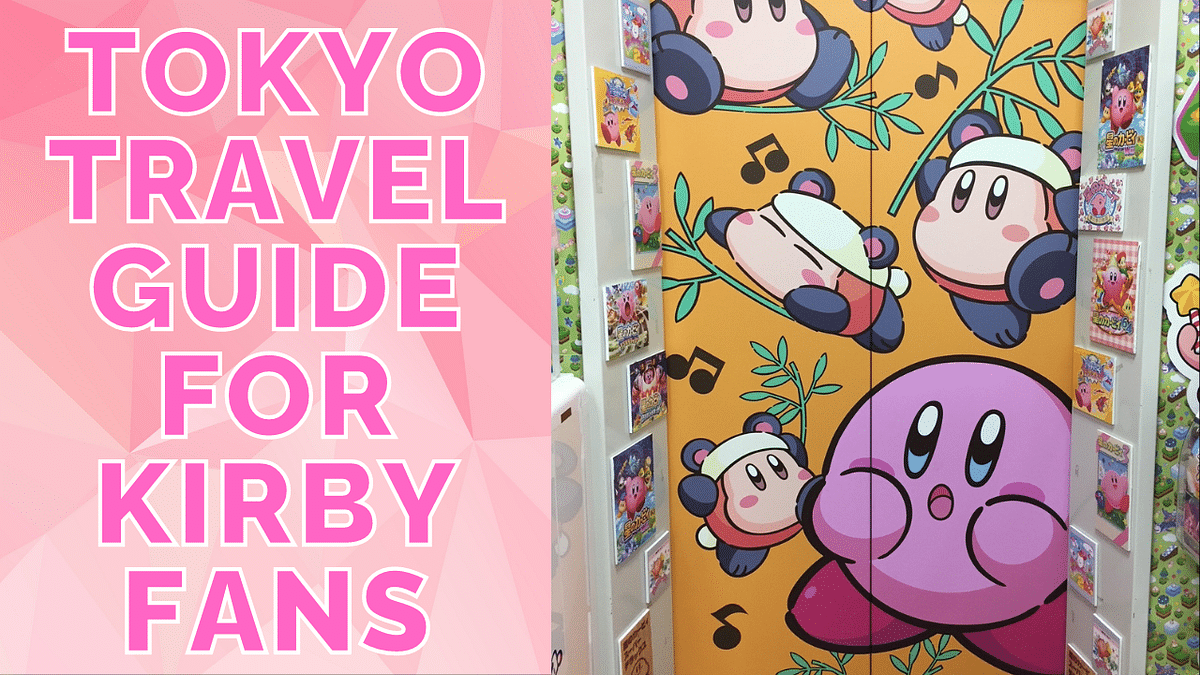 Where was Kirby born? Some say Dream Land or Planet Pop Star, but Kirby first came to the world in Tokyo. HAL established its headquarters in 1980 in the city's Chiyoda ward, and years later, the company hired Tokyo native Masahiro Sakurai, who created the pink puff. So, like Sakurai, you could also say Kirby is a true Tokyoite.
Fortunately, Kirby's home pays patronage to the city's roundest, pinkest hero. There are plenty of amazing places to discover within Japan's capital for fans of the Kirby franchise. Moreover, most of the main attractions are relatively close, meaning you could easily make your own Kirby afternoon.
Kirby Cafe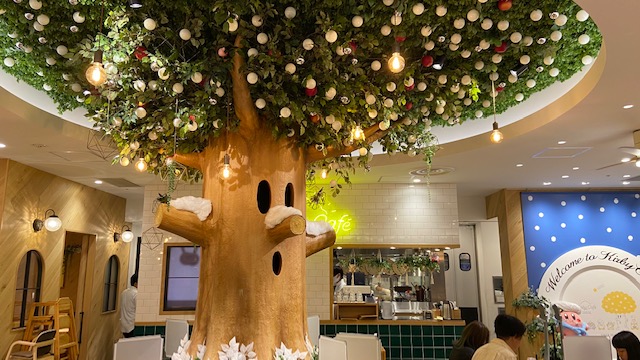 Located right outside the towering Tokyo Skytree in Tokyo Solamachi, the Kirby Cafe is an official restaurant themed around the franchise. You can snap a few photos of Chef Kawasaki and Waddle Dee statues outside the cafe, but the real fun lies within. The bright and colorful Kirby franchise may lead you to believe that the cafe resembles a kindergarten classroom, but Kirby Cafe draws its inspirations from more rustic, quiet venues where you're more likely to read a book and sip coffee. However, it still manages to capture the Kirby charm, as a massive likeness of Whispy Woods dominates the center while other Kirby characters decorate the shop. The blending of the Kirby cast with its more austere aesthetic makes it appealing for children and adults.
The food is elaborately designed around the franchises, and the menu switches out frequently. On my first visit, I had a Kirby burger and a side dish consisting of tamagoyaki shaped like the star blocks from the games. Other dishes include pizza with star-shaped cheese slices, parfaits with a scoop of Kirby-faced ice cream, and currently, you can order an amazing-looking cake shaped like mouthful mode car Kirby from The Forgotten Land. When it comes to taste, the quality may not be among your most memorable meals in Japan, but the creative designs are incredibly photogenic. Like with most themed cafes, you're visiting for the atmosphere and not the food.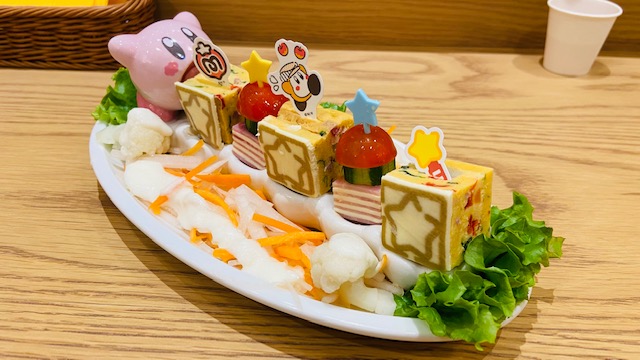 In the back of the cafe is a small merch shop, which sells many exclusive Kirby goods. Many are themed around cooking or food, so it's a great place to pick up a Kirby frying plan or coffee cup. You will likely get some small free souvenir when you leave, whether a coaster or a sticker, so even if you don't buy a thing, you'll still have something to remember the experience.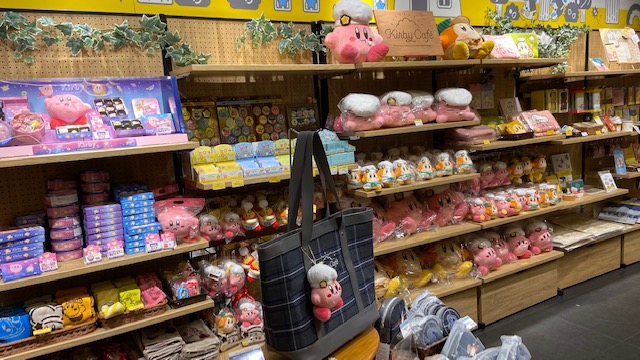 It is highly recommended that you book well in advance, especially on weekends. Check their official site to make a reservation.
Yamashiroya Toy Shop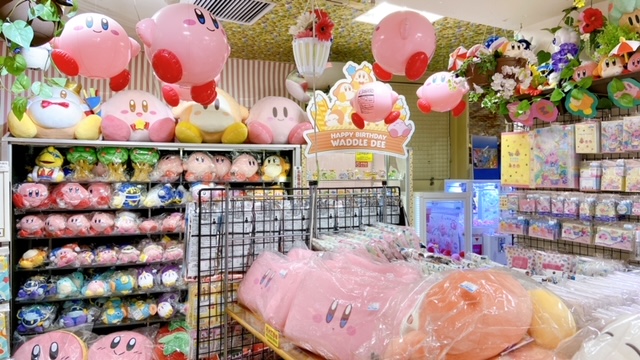 While Kirby may not come close to Mario regarding software sales, the franchise dwarfs Nintendo's biggest money maker in the sheer number of merchandise. If it exists, Kirby's face is on it. The reason for this always puzzled me, but many diehard Kirby goods collectors worldwide exist. Are they making so much merch because of collectors, or are there collectors because there's so much merch? If you want to get your hands on anything Kirby-related, there's no better spot in Tokyo than the Yamashiroya toy shop.
Housed a short walk outside of Ueno Station, Yamashiroya stands at over six floors filled with local and international toys. Each floor has a specific theme, like children's toys, American comic books, anime, etc. One floor is dedicated to games, including an impressively large Kirby section. Yamashiroya consists of many exclusive or time-limited products, so if you see something you want, grab it! It's nearly impossible to list every exciting thing I've seen here. The plushies stand out for many, available in all shapes and sizes and even featuring lesser-known characters. Nago is finally getting his plushie this year. The store also carries a lot of stationery and books, including manga and journals. Write about your day with your Kirby pen in your Kirby journal decorated with Kirby stickers, nothing is stopping you.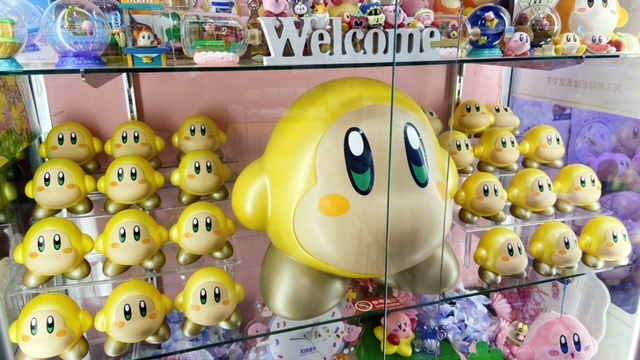 Yamashiroya is an excellent place to pick up Kirby soundtracks and artbooks as well. They are available here at retail price, and may be cheaper than simply buying online. It really is a one stop shop for Kirby fans. Since it's located in a major part of the city with dozens of other things to do, you don't need to sacrifice a big part of your day to grab some Kirby swag. Check their official site for a sneak peek of what they have to offer.
Tsuruya Yoshinobu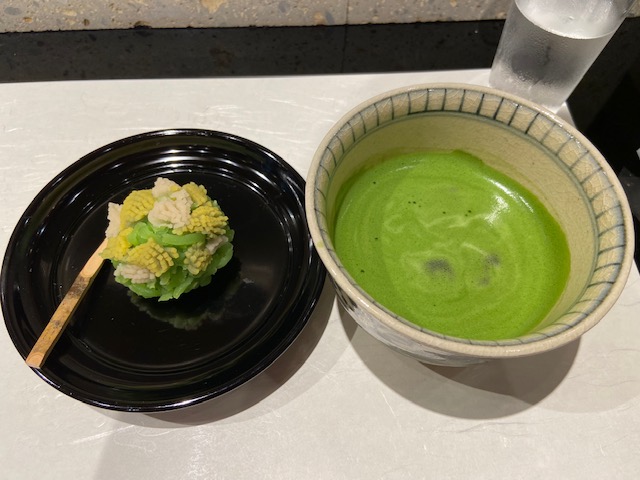 There is a bit of cheating here since they have a Tokyo shop in Nihonbashi, yet Tsuruya Yoshinobu originates from Kyoto. The cafe and confectionary shop focuses on traditional Japanese sweets, also known as wagashi. However, the most impressive element of the Tokyo shop is the counter, where you can choose which type of snack you want and watch them prepare it in front of your eyes. If you've never seen wagashi prepared, it's a truly memorable experience as you watch masters of their craft effortlessly make beautiful food artwork with unique tools.
What does this have to do with Kirby? Honestly, very little. However, Tsuruya Yoshinobu and Kirby have collaborated in the past several times. Most notably, with the Kirby-themed DIY monaka set. Monaka is a traditional Japanese snack sandwich filled with red bean paste. The Kirby set has Kirby and Waddle Dee's faces adorned on the wafer, along with traditional artwork with a splash of Kirby stylings. I own a set myself, and it's fun to make and even more fun to eat.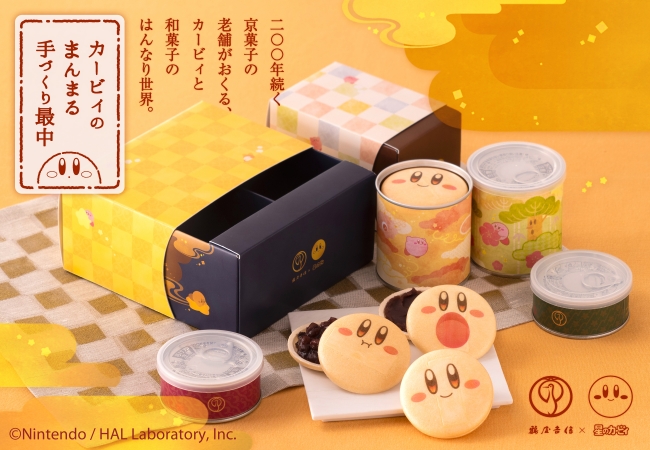 It's very likely they will be selling this set at the Tokyo store, but even if they don't the place is worth visiting. It's personally one of my favorite shops in the city. Check out the Tsuruya Yoshinobu and Kirby monaka set here.
Any arcade in Tokyo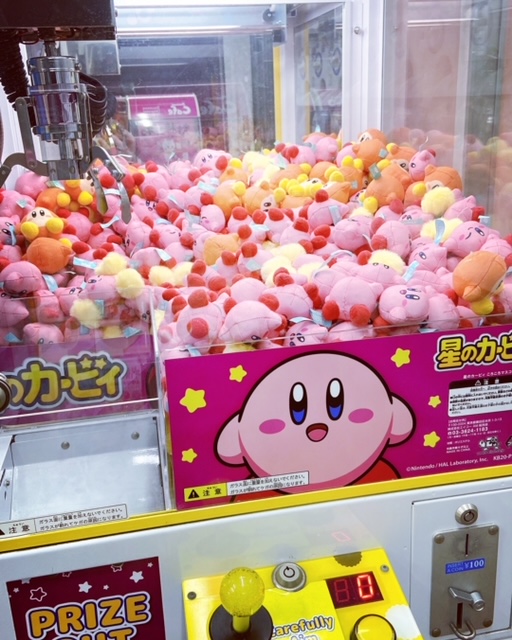 There's no Nintendo or Kirby-branded arcade in Tokyo, but you'll likely find him inside the city's many game centers. The first floor of many chain arcades in Tokyo, such as Taito or GiGO, are primarily dedicated to claw catchers, crane games, UFO catchers, whatever you want to call them. Kirby plushies and toys are a frequent staple of these shops, and it's somewhat difficult to enter one and not see some Kirby goods. I would easily say over half of the arcades in Tokyo are carrying Kirby merch just waiting to be grabbed.
While the huge plushies are tempting, I highly recommend going for the smaller crane games. Here you can find rubber Kirby toys or smaller plushies at good quality. Since Kirby is perfectly spherical, he is perfectly suited for the often unfair contraption that is the claw. In addition, the weight is evenly distributed, so Kirby doesn't easily fall out due to one side being heavier and slipping out. I am not exaggerating when I say I've won probably a half dozen Kirbys from claw catchers, often in one try, because of his impeccable aerodynamics.
Many Kirby items are only found in these arcades, though surplus goods eventually end up in recycle shops. But if you're frustrated with trying to get that giant four-foot shark plushie, try nabbing a Kirby or two.
Listen to Tokyo Game Life for Gaming Travel Tips
Need more Kirby in your life? Tokyo Game Life is a Tokyo based video game podcast focusing on Nintendo and gaming culture in Japan's capital. Kirby has popped up in numerous episodes, such as this one dedicated to the pink puff including a detailed breakdown of Yamashiroya. You can listen to episodes directly on this site, or on your favorite podcast app. Subscribe today, and look forward to more Kirby content on the podcast in the future!